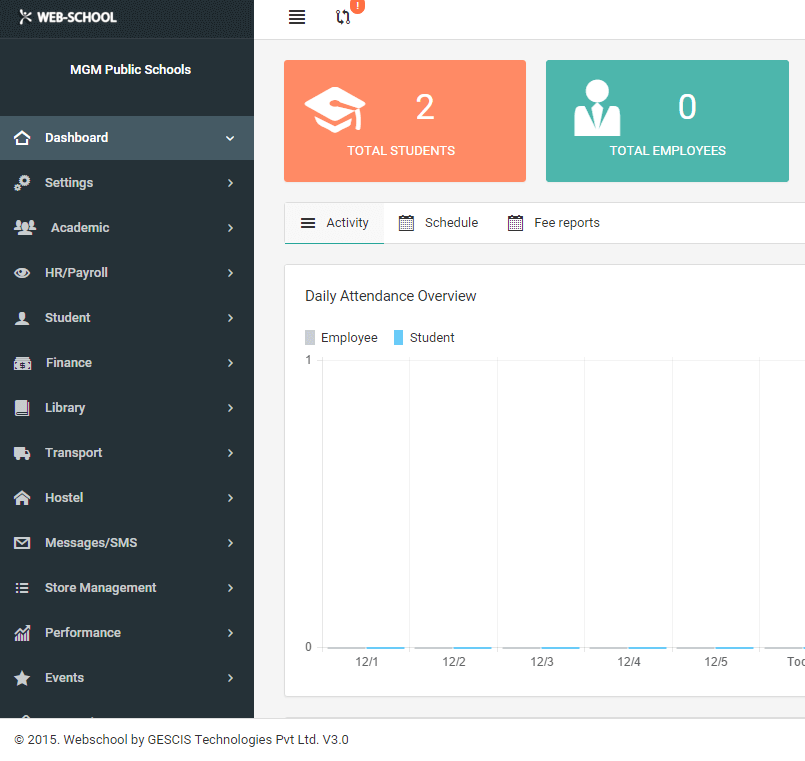 The way we created a better culture in education
Our comprehensive school management and administration software package, Web School, add quality of academic institutions by letting efficient monitoring of the day to day progress and performance. What made us the best is our features that allows parents to stay updated with their kids' performance levels.
You could freely download the Community Edition from Web School application to experience the advantages and features of our application. Being an open source software, you can also make changes in the coding for better utility.
Smoother Schools
Web School, the integrated software application will be sufficient for accomplishing active running of schools. Our deeply tested and efficient software system will make easier administering for schools.
The Brains Behind
GESCIS Technologies, the initiators of Web School is a pioneer establishment focused mainly on software development and internet marketing, haves a clientele list spreading all across the world. Our school management system owns a strong client testimony for boosting productivity and efficiency of academic administration.
Web School Version 4.0
The latest version of Web School, with added features is all ready . This advanced version provides better stability and efficiency in managing school systems.
Why choose Us?
Made Efficient
We present an easily approachable,user-friendly and dynamic school management software that benefits for academic excellence. Whole administrative needs of academic institutions can be served with this integrated software, featured with multi-user interface. Web School lets school administration get organized by involving parents, teachers and employees.
Made Easy
Setting up Web School is too simple and convenient and would take only about 1-2 hours. Through a series of technical tests, this software is made sure to provide uninterrupted management of schools.
Made Affordable
The free Community Edition from Web School will suit as a basic platform to develop academic administration. A wide range of added features is available for altered needs of ambitious clients. To get our pricing schemes, just visit the pricing page.
Made Adaptive
For a complete user experience, our software product is diversely designed so as to be accessed from anywhere. Web School is developed to let fine avenues through smartphones of leading software including iOS and Android.
Our Skills
ERP Systems 90%
School Management Software 95%
PHP 90%
Web Development 95%
Marketing 70%